Black rubber, green benefits
Manufactured with recycled tires, Pro-Fit is leading the way toward a greener tomorrow. Using recycled content means less energy and fewer raw materials are used in the manufacturing process. Installing Pro-Fit will:
Reduce your project's carbon footprint
Contribute towards LEED credits
---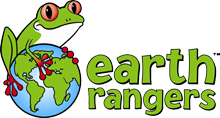 Endorsed by the Earth Rangers
KN Rubber has partnered with the world-renowned Earth Rangers For Sustainable Technology to demonstrate the environmental benefits of Pro-Fit.
Selected for its green credentials, Pro-Fit was installed in the Earth Rangers' employee fitness centre. "It's the right thing to do," said Andy Schonberger of the Earth Rangers Centre. "It was the right product for the right application." Visit the ERC Showcase for more information about this exciting partnership.

Trusted by the UDLL
The Universal Design Living Laboratory, a showcase for cutting-edge home construction techniques, installed Pro-Fit Athletic Rubber Flooring in their demonstration exercise room and QuietDown Acoustic Underlay in other areas of the high-tech home.