SymarŪ Safe-T-Guard
Roof Walkway Mats
PDF Downloads: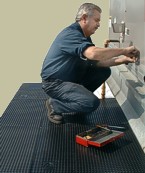 Safe-T-Guard Roof Walkway Mats in use

Recycled rubber

Made in North America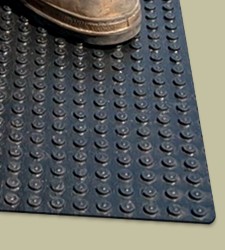 Durable Roof Protection
Safe-T-Guard's high quality and durable SymarŪ rubber compound ensures maximum protection for valuable EPDM and PVC roofing membrane surfaces. No more punctures or abrasions, no more leaking in light mechanical and heavy traffic areas. It's ideal around and under roof-mounted machinery. Year after year, Safe-T-Guard Mats will stand up to all weather conditions.
Proven Slip Prevention
Engineered with raised buttons on the surface, Safe-T-Guard Mats ensure positive traction in all weather conditions. Water is channeled below the safety surface reducing the chances of slips and trips.
Easy Installation
Safe-T-Guard Mats are quickly and easily installed, and are firmly adhered with compatible EPDM or PVC roofing adhesives. For even easier installation, Safe-T-Guard Mats are available with a specialized PSA tape for simple peel and stick installation. The 30" square mats are easy to handle and light-weight. Innovative radiused corners eliminate lift points and reduce the risk of tripping.
About Symar®
Symar is engineered from recycled tires into fully cured masticated rubber, offering cost advantages and superior physical properties compared to virgin rubber products. Fibers are added during the manufacturing process to create a highly durable yet flexible and resilient product.