Symar® Masticated Sheets and Rolls
PDF Downloads:

Recycled rubber

Made in North America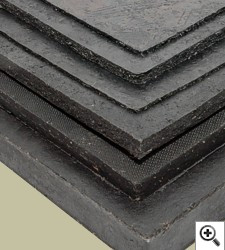 Symar Says Performance
Our masticated sheets and rolls are fiber reinforced and fully cured. This unique process translates into higher tensile strength, tear strength, resilience, wear characteristics, ozone resistance, low temperature resistance, and ultimately, durability. Compare Symar® against other "glued" rubber products. You can easily see and feel the difference.
Symar Says Versatility
We supply cured sheets and rolls for die cutting and other processing. Our customers use Symar for a variety of automotive and heavy truck applications including: Baffles, Close-outs, Air Dams, Splash Shields, Mud Guards and Mud Flaps. In agricultural equipment, Symar is used for: step pads, cab mats, engine close-outs and grain deflectors. These represent just a few of the applications for Symar sheets and rolls.
Symar Says Economy
Symar will consistently do what you intend it to do, far better and longer than any other recycled rubber product. Symar's consistency and durability translates directly into bottom-line economies.
Symar Says Selection
For some customers, rolled product is the most efficient. KN Rubber is North America's sole provider of this continuous-cure recycled rubber. Others require Symar by the sheet. To all our customers, Symar says "Take your pick".
Symar outperforms any other masticated rubber product. We make it our business to be the best.