Symar® Super Tough Reinforced Rubber
PDF Downloads:

Magnified view shows the nylon and polyester reinforcement

Recycled rubber

Made in North America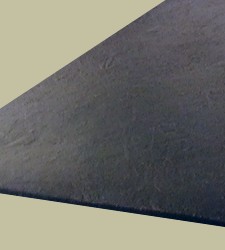 Symar Says Stiffness and Tear Resistance
SymarŪ Super Tough is a unique composite material. It consists of polyester and nylon fabric cured to masticated rubber. As a result, Super Tough products have far greater stiffness and tear resistance properties than other materials.
Symar Says Durability
Super Tough's innovative properties allow thinner gauge parts to function in many extreme "under the hood or body" applications. SymarŪ Super Tough is ideal for: Side guards, skirt boards, splash shields, liners, fender boards, and much more.
Symar Says Savings
Super Tough's strength reduces the need for part thickness and as a result, weight and cost savings can be realized. Die cut Super Tough parts have a stiffness that is equivalent to complex molded parts.