Effective load securement for a wide range of products:
Paper Rolls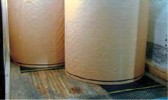 Load-Grip has been used for over 15 years and is well recognized in the paper industry. Shippers of paper rolls place Load-Grip between the floor and the paper rolls to minimize roll shifting during transit.
Metal Coils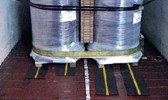 In North America, Load-Grip is marked and rated to ensure that the product is manufactured to a COF value greater than 0.8 which exceeds NACSS performance criteria.
Steel Drums
Load-Grip is ideal when shipping drums of various chemicals. Mats are placed beneath the drums to prevent shifting and rotation from vibration.
Metal Castings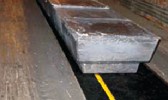 Securing heavy and dense ingots is made easy with Load-Grip, an economic alternative to costly wood blocking and bracing methods.
Load-Grip is perfect for securing other commodities, including: Foods and Beverages, Flooring and Building Materials, Glass and other fragile goods. The applications are endless.
By rail, road, or sea: if you ship it, you'd better Load-Grip it.