Cloud 9 Animal Comfort Mats
PDF Downloads:

Close-up view of knob underside

Made in North America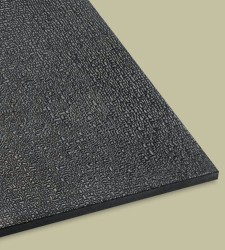 Cloud 9 Animal Comfort Mats are heaven for dairy cows. Knobs on the underside of the soft rubber mat increase animals' comfort level, reduce swelling and improve sleep patterns, resulting in better milk production.
Independent studies by government and industry researchers have shown that, compared to bare concrete floor, Cloud 9 Mats decrease the incidence of joint swelling, which may be an important factor in preventing a variety of leg problems.
While soft on your animals' hooves, our durable mats will stand up to years of use.
Ideal for:
Animal stall/bedding areas