SymarŪ RhinoHyde Rubber Mats
PDF Downloads:

Recycled rubber

Made in North America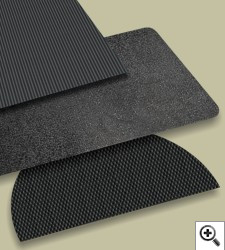 SymarŪ RhinoHyde rubber mats are the most economical multi-purpose mats available in the marketplace today.
Manufactured from our proprietary Symar masticated rubber, these mats are fiber-reinforced for durability and available in a variety of sizes, shapes, and patterns.
Symar RhinoHyde rubber is an environmentally friendly material manufactured from recycled rubber that would otherwise end up in our landfills.
With over 100 million pounds of Symar rubber products sold annually, you can rely on KN Rubber to meet your volume and price point targets.
RhinoHyde is perfect for:
Docks • Hallways • Laundry Rooms • Garages • Gym floors • Workbenches • Pickup Truck beds • Trailer beds ...and so much more!