Nyracord® Counter Tred - Grease and Oil Resistant

Close-up view showing texture

Closed slot design also available

Recycled rubber

Made in North America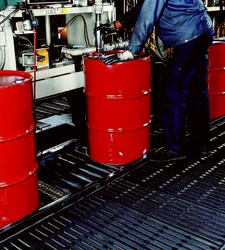 Grease resistant Counter Tred is blended from Nyracord rubber and nitrile to provide the most durable oil resistant anti-slip matting on the market. Open slot design allows oils or solvents to flow through the mat providing a safe, slip-resistant, anti-fatigue working surface. Dimpled underside allows for drainage and aeration. Ideal for catwalks and grating areas.
Mats feature a scribe line every running foot, allowing the option to cut into workstation sizes.
About Nyracord®
Nyracord® Rubber is a premium rubber material combined with sturdy fibre for consistent durability.