Commercial projects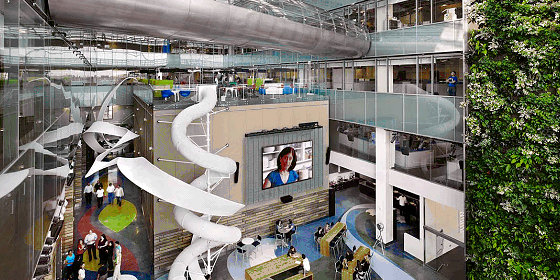 QuietDown installed in new Toronto landmark
QuietDown Max and QuietDown Max HB were installed under engineered wood flooring and carpet tile throughout the innovative Corus Quay building on Toronto's booming waterfront. The 482,000 sq ft,  8 storey commercial landmark was constructed on a remediated brownfield site. Built to reach LEED Gold certification, we believe that QuietDown helped achieve up to 5 points towards credit numbers in the following categories: MR 4.1, MR 4.2, MR 5.1, MR 5.2 (and may also fall under the EQ 4.1).
---
Residential projects
"We are so impressed by QuietDown. What a difference! I just wish I knew about the product when we were finishing our basement - we had installed laminate and it has a very 'hollow sound'. We are planning to install more hardwood on the second floor, and we will be sure to include QuietDown in the installation. It really is a great product and it certainly does the job of keeping noise down."
Susan Goyer, Homeowner
Home Renovation in Mississauga, Ontario
---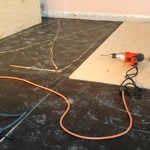 "This was the easiest part of our renovation. Just lay it down, glue it, and screw the plywood on top. It may be invisible underneath the floor, but its sound reducing effect is noticeable."
Grant Eberlin, Homeowner
Detached Home Renovation in Richmond Hill, Ontario
1120 SqFt of QuietDown was successfully installed between the original plank subfloor and the new plywood subfloor. QuietDown panels were laid and cut to shape using a utility knife. A sharp blade cuts it easily. Subfloor Adhesive PL-400 was used on both sides of QuietDown. The homeowner was able to hear an immediate reduction in sound transmission from the main floor to the basement.
---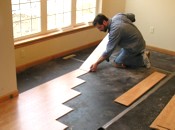 "It sounds good, providing a nice solid sound to the floor. In addition, it lays nice and flat."
Wayne Bock of FloorPro (Wood floor installer with over 20 years of experience)
Semi-Detached Bungalow New Construction built by Bielinski Builders in Waterford, Wisconsin
QuietDown was used in conjunction with laminate floor in order to reduce sound transmission to the basement, as well as to provide a more solid-sounding floor on the main level. QuietDown was used in all hallways, the kitchen, and the family room. QuietDown was installed on top of the wood subfloor, with the seams taped together using standard duct tape.
---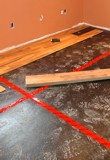 "Laminate floors on their own produce acoustic brightness in home theatres. QuietDown used underneath laminate floors significantly reduced the acoustic brightness, making for a better overall sound."
Pavneet Arora, owner of Waroc Informatik
Basement Audition Studios Installed by Waroc Informatik Custom Home Theatre in Bolton, Ontario
QuietDown was installed over top of a concrete subfloor and topped with a laminate floor. QuietDown was used to improve the acoustics within the home theatre audition rooms. Prior to using QuietDown, Pavneet Arora of Waroc Informatik tested its acoustic properties versus other acoustic underlays using a sound pressure meter. His tests showed that QuietDown offered the greatest dB reduction.