Rubber Nyracord® Anti-Spray Splash Guards
PDF Downloads:

Profile diagram showing finger-like projections

Recycled rubber

Made in North America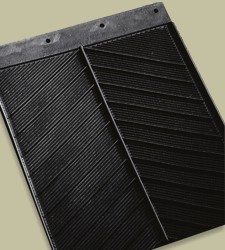 Anti-Spray / Anti-Sail Splash Guards feature water-collecting projections for unique flow control and can improve visibility as much as 50 percent.
Thousands of finger-like projections on the tire side of the flap collect and channel spray away from the tires and back down to the road.
About Nyracord®
Nyracord® Rubber is a premium rubber material combined with sturdy fibre for consistent durability. Nyracord® is engineered for dependability on the open road.