Rubber Nyracord® Heavy Duty Dock & Body Bumpers
PDF Downloads:

Recycled rubber

Made in North America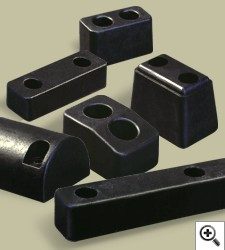 Made from fibre-reinforced Nyracord® Rubber for extended service life. Available in various sizes to meet your needs. Recessed 1/2" diameter bolt holes help protect vehicles and structures from damage on impact. Rounded corners improve durability by reducing the chance of tearing or breaking.
Ideal for:
Truck and trailer bodies
Loading docks and bays
Heavy equipment and material handling areas
About Nyracord®
Nyracord® Rubber is a premium rubber material combined with sturdy fibre for consistent durability. Nyracord® is engineered for dependability on the open road.