Rubber Nyracord® Anti-Sail
Quick Change Splash Guards with Steel Bars
PDF Downloads:

Profile diagram showing thickness

Recycled rubber

Made in North America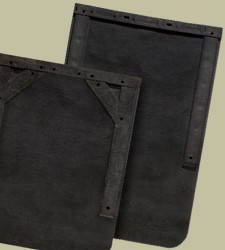 This premier mud flap combines the strength of steel with Nyracord® Rubber. Designed for ultimate performance and driver safety. Reinforced with two steel bars, Anti-Sail Splash Guards are virtually indestructible.
Quick Change
Save time and money with Quick Change splash guards - simply slide a new guard into the quick change mounting bracket.
About Nyracord®
Nyracord® Rubber is a premium rubber material combined with sturdy fibre for consistent durability. Nyracord® is engineered for dependability on the open road.