Rubber Nyracord® Side Shield Splash Guards
PDF Downloads:

Recycled rubber

Made in North America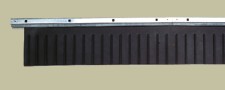 Side Shields offer ribbed construction to reduce spray from sides of trailers.
Each side shield requires two brackets.
About Nyracord®
Nyracord® Rubber is a premium rubber material combined with sturdy fibre for consistent durability. Nyracord® is engineered for dependability on the open road.